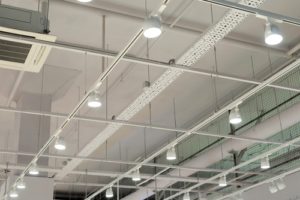 It's no surprise that LED lighting is slowly becoming the go-to solution for many homeowners. However, when it comes to commercial settings, its usage has long been the industry standard. Whether it's an office space, a retail store, or a factory, there are plenty of advantages commercial LED lighting, such as commercial LED cove lighting can bring to your office.
With constant improvements in their technology, it is now a much better option than earlier types of commercial lighting. In the following article, experts in flexible track lighting pendants will take a look at the benefits that have made them the illumination of choice for industrial and commercial spaces.
What are the benefits of commercial LED lighting?
Business owners are always looking for innovative ways to improve their spaces in order to maximize efficiency, functionality, and ultimately profit. Here are seven advantages that commercial LED lighting fixtures, such as highly flexible slot lighting systems, bring.
1. Cost-efficient
There are a number of ways for your business to save money, and an effective strategy is with the use of LED fixtures. Its ability to reduce and not waste energy, along with low maintenance costs, the energy efficiency traits make them a no-brainer for commercial spaces.
2. Energy-efficient
LED lighting is up to 80 percent more energy-efficient than standard halogen and incandescent bulbs. If you run a large business or industrial space with long working hours, the technology of LED lights has proven to be a lasting solution for commercial properties.
3. Life-span
In comparison to incandescent and fluorescent bulbs, LED lighting lasts longer. Their lifespan ranges between 50,000 to 100,000 hours in commercial settings. Traditional lighting, on the other hand, provides significantly less, between just 1,000 to 30,000 hours.
As a result, when compared with incandescent and halogen lighting, commercial LED lighting fixtures can last three times longer and up to 10 years before replacement is needed.
4. Minimizes heat production
Reduce the costs of electricity during colder months and turning on the AC during the summer with LED lighting. Unlike other forms of lighting, it produces less heat as it uses its acquired energy to illuminate without generating heat. In addition, they operate on low-voltage electrical systems, which protects from overheating and damaging the fixtures.
5. Broad range of designs
The lighting fixtures do not only help to illuminate your commercial space, but make it aesthetically and visually appealing for workers as well as your clients and customers. There are limitless design possibilities to make your place of business as attractive as possible, without losing any of its energy and cost-saving characteristics.
6. Flexibility
LED lighting offers versatility so that you can use it in just about any commercial or industrial setting. Whether it's an art gallery, retail store, manufacturing plant or indoors and outdoor use, commercial LED downlights let you improvise and make illuminating your place of business that much easier.
7. Easy control
Commercial LED lighting fixtures give you better control over your place of business. You can easily adjust the settings that include dimming, daylighting, sensors, timers, and other options. The added advantage is that turning these lights on and off frequently does not tamper with their life expectancy as it would easily affect incandescent and fluorescent bulbs.
Looking for top-quality flexible track lighting pendants? We've got you covered!
Now is the time to reap the benefits efficient lighting has to offer. As one of the go-to commercial LED lighting suppliers, we'll help you find the perfect illumination for your business or industrial space. Whether it be commercial LED cove lighting for your office or another type of cutting-edge commercial LED lighting fixtures, our experts at LF Illumination will help you find a sustainable and lasting solution.